The Huffington Post-
Liliane Daoud went from star of a show on Egyptian TV, to villain, to persona non-grata, to deportee in one fell swoop as the regime of President Abdel Fattah El Sisi tightened the noose on dissenting media.
Daoud, a former BBC Arabic news veteran who holds dual Lebanese-British citizenship, had moved to Egypt in 2011 in the wake of the country's revolution toppling Hosni Mubarak to work for OnTV, then owned by Egyptian multimillionaire Naguib Sawiris.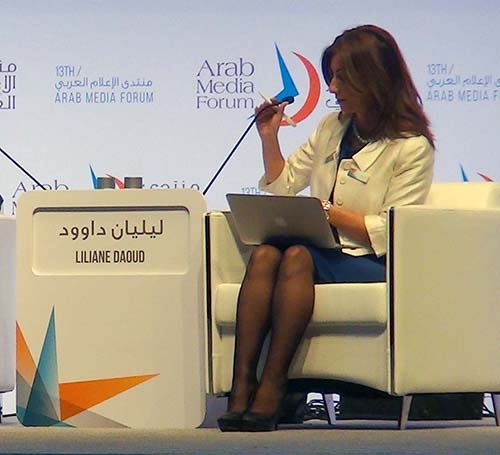 Liliane Daoud at Dubai's Arab Media Forum in 2014 (Abu-Fadil)
Her reputation hosting "The Complete Picture" talk show earned her accolades from viewers who appreciated her professionalism, balance in hosting pro- and anti-government guests and belief in the viewers' right to know.
She was derided by others who accused her of being an agent provocateur with a sinister agenda.
"Guys, don't let anything depress you. The (Egyptian) people have seen a lot and sallied forth nonetheless. You have a weapon in your hands called the will to live and your executioner's only weapon is his attempt to swipe it from you. Hang on to it," she tweeted last year commenting on the arrest of activist Alaa Abdel Fattah, sending ultra-nationalist Egyptians into a Twitter frenzy.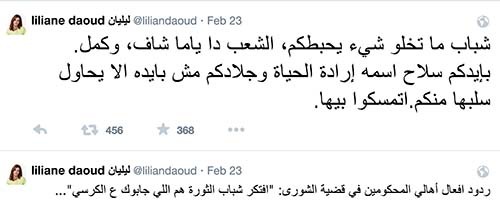 Screen shot of Daoud's controversial tweets supporting Egyptian youth
"#LilianeMustGo" was the hashtag of the anti Daoud campaign amid cries calling for her deportation for "interfering in Egypt's domestic affairs."
Egyptian media have been super polarized and rational discourse seems to have been tossed by the wayside, notably on shouting match talk shows.
Sawiris tweeted back that even if he disagreed with Daoud, he defended her right to express herself, adding that he backed opposite opinions.

Screen shot of Naguib Sawiris tweet supporting Liliane Daoud
But that was to no avail when it all came to a head on June 27, 2016 and her contract was terminated under the new ownership of pro-El Sisi businessman Ahmad Abou Hashima.
No sooner did she get home from signing the termination papers when passport police officers in civilian clothes arrested Daoud in front of her young daughter, escorted her to Cairo airport, and deported her on a flight to Beirut with just the clothes she wore, her handbag, her passport and wallet.
Even her cell phone was confiscated and she only managed to call her attorney from the plane using someone else's device. Pictures of her being unceremoniously sent out of Egypt appeared on several websites and in social media and, predictably, went viral.
The stated charge: overstaying her work-related residence visa. Countless sources said it was because she had needled the regime one too many times with controversial guests she had hosted and via her provocative social media posts.
A case in point was "Awlad El Shawareh" (The Street Kids), a group of young satirical street performers expressing their frustrations in songs, dances and biting criticism of social ills and Egypt's state of affairs on videos they posted online. They appeared on her show earlier this year.
Screen shot of Daoud hosting satirical performers "Welad El Shawareh"
The "kids" were arrested in May on charges of demonstrating and promoting terrorist ideas.
Meanwhile, the distraught daughter was left behind to the care of Daoud's Egyptian ex-husband who witnessed the entire episode when he picked up the girl to take her out on his birthday.
Khaled Alberry posted an account of what happened on his Facebook page saying the officers told him the order came personally from El Sisi's office. "He (El Sisi) has nothing better to do, God help him."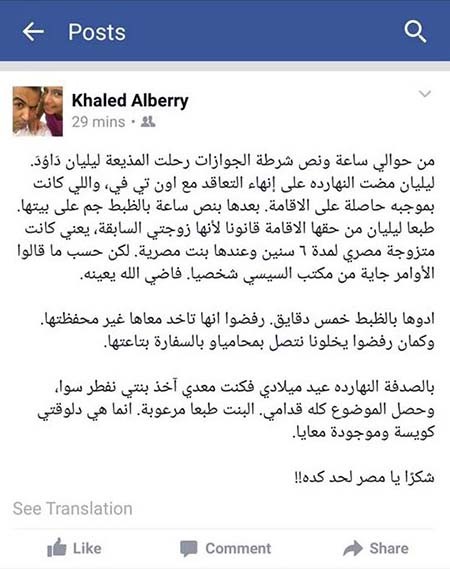 Screen shot of Daoud's ex-husband's post on her arrest
Alberry added that Daoud was given five minutes to leave, refusing to let her contact her embassy.
Within hours of the deportation, and in an Orwellian twist, Daoud's Twitter and Facebook accounts were apparently deleted but she reappeared online on Tuesday and thanked her family and supporters.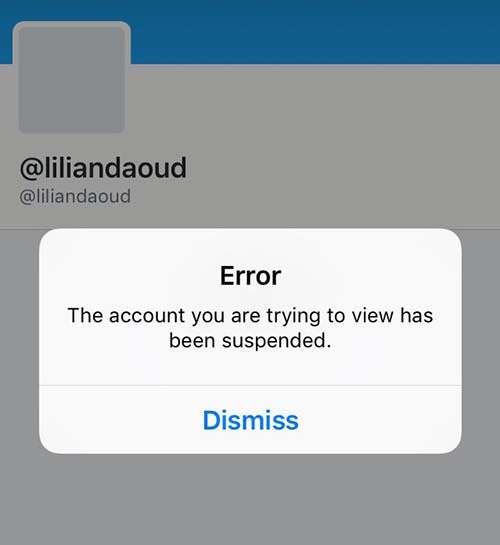 Screen shot of Daoud's suspended Twitter account
At this writing, she's still on OnTV's program list, but maybe not for long.
Daoud told a BBC interviewer on Tuesday she had expected an official backlash but not in the way it was executed, notably since she's the mother of an Egyptian girl, has property in Egypt, pays taxes and considers herself an Egyptian citizen.
"So I imagined there would be some kind of warning, or that I'd prepare myself," she said, adding she was shocked at the way the eight men who took her had stormed her home.
Daoud said at one point her lawyer had no clue where she was for about five hours and that the prosecutor's office denied having detained her before news emerged that she was at the airport being deported from Egypt.
"I never criticized the president and all my programs are available (to examine) and my positions are known," she replied to a question on whether she had riled El Sisi, noting that authorities today are totally averse to any contrarian views.
She said despite setbacks she'd encountered in recent years, she and others had never imagined the press freedom ceiling would drop as low as it had in the last two.
"It was freer five years ago," she said. "Even under the Muslim Brotherhood's rule, we didn't see what we're seeing now."
The following is a sampling of viral social media comments for and against Daoud.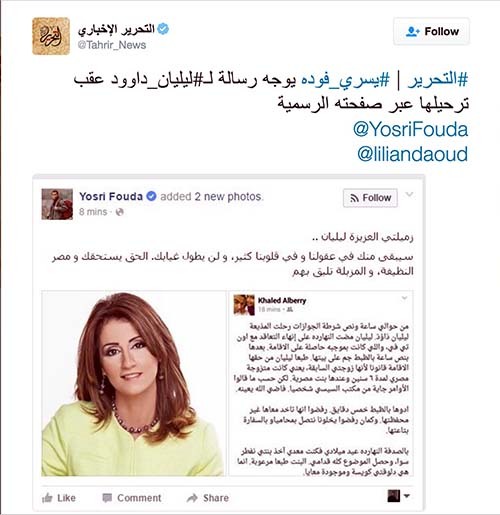 Screen shot of Yosri Fouda's solidarity tweet
Noted media personality Yosri Fouda tweeted: "My dear colleague Liliane, a lot of you will remain in our hearts and minds, and your absence won't be long…Right and clean Egypt deserve you, and the trash can suits them."
Bassem Youssef, Egypt's self-exiled Jon Stewart, was quoted, on a website showing a black stripe indicating "condolences on (the death of) press freedom," as saying that Daoud had a young Egyptian-born daughter she was forced to leave behind.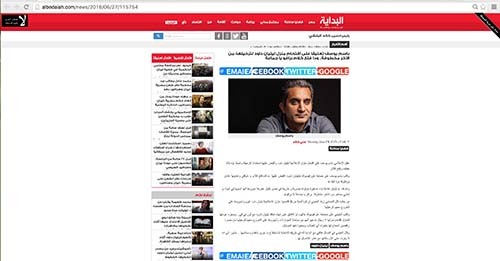 Screen shot of Bassem Youssef's comment
"Finally, she's kidnapped. Bravo, guys, bravo."
Egyptian Nobel peace laureate Mohamed El Baradei – also self-exiled – tweeted: "Liliane Daoud, ma'am you have gratitude and respect and courage. One day we'll have self-confidence to understand the value of difference of opinion."
On the flip side, one-time opposition paper Al Wafd claimed Daoud was deported for the public good because she had AIDS and was placed in medical quarantine.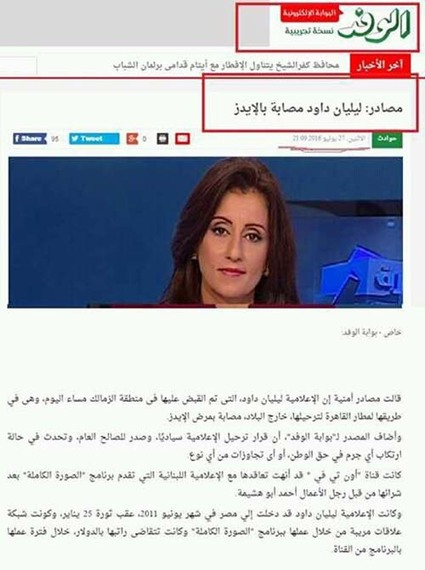 Screen shot of Al Wafd claiming Daoud had AIDS, suspicious ties
It concluded that she had entered Egypt in June 2011 in the wake of the January 25 revolution and set up a network of suspicious ties through her show, and was paid in dollars for her work at the TV channel.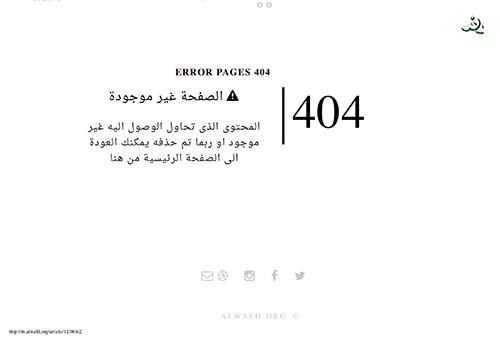 Screen shot of Al Wafd's deleted story about claim of Daoud's AIDS
The unsubstantiated AIDS claim was later deleted from the paper's portal.
A common refrain in scores of tweets bashing Daoud was: "Good riddance to bad rubbish."
"Good riddance, go back to your country," tweeted Marmar Gaber.
Detractors have long accused El Sisi of being thin-skinned, dictatorial, xenophobic and conspiracy-minded. Supporters see him as a nationalistic savior who is protecting his country from troublesome foreign and domestic agents out to harm Egypt.
Share